T7100, T7208, T7316, M7100, M7208, M7310, M7324.
This webpage provides useful information, affordable pricing, and online sales of Nortel Telephones.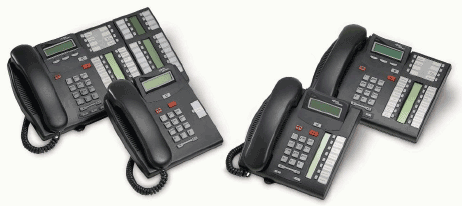 To end users, the Nortel Telephones that sit on their desks are the system. It's the critical interface that determines how easy it is for them to use the phone system, and in turn, how productive, effective and satisfied they will be. That's why Nortel offers a wide range of user-friendly Nortel Telephones to fit any niche in the business, from the front desk to the conference room, from supervisors who spend their days on the phone to mobile workers who are never at their desks.
There's an entry-level, single-line telephone ideal for public areas such as cafeterias and lobbies., a choice of multi-line, display telephones and consoles for moderate to high-volume users.., cordless phones for several distinct environments, plus an audio conferencing unit and door phone.
Since Norstar Integrated Communications Systems support any combination of these phone sets, you can mix and match for the best economy and utility. You could equip public areas with the most basic one-line sets, give office professionals and technical specialists multi-line units with integrated display, provide more feature-rich sets for supervisors and managers and equip receptionists and emergency contact positions with modular desktop solutions that efficiently distribute calls.

The Nortel Telephone T7100 is an entry level, single-line telephone designed for public areas such as lobbies, cafeterias, hallways, break rooms, or other locations where use is occasional.
---

The Nortel T7208 is an enhanced-level, multi-line telephone with an integrated LCD. It is intended for moderate call volume users such as office professionals and technical specialists.
---

The Nortel T7316 Telephone is a full-featured, expandable, multi-line telephone that has a two-line, 16-character-per-line display that is menu driven and supported by three context-sensitive soft keys.
The T7316E provides access to 24 memory buttons, 16 of which include multi-segment icons for fast and precise decision making. It is designed for high call volume positions requiring access to extensive system features.
Typical users include supervisors, managers, executives, and other business professionals.
---
E System Sales, Inc. Links
Sales Terms - Privacy & Copy Right - About Us - Contact Us - Site Map
---